IGW mbH

since 1991
approx. 600 projects
in more than 30 countries
Specialization:
Small hydropower

Future perspective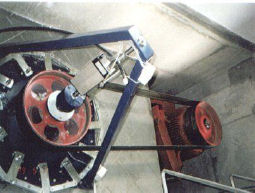 In the first years we have been working prior in the new federal states of Germany, but since 1997 the number of projects in the old federal states of Germany is increasing. For more than six years now we also have been working abroad and today almost half of our business volume is generated with projects outside of Germany. Currently we are working on ventures in Italy, Bulgaria, Slovakia, Montenegro, Bosnia-Herzegovina, China, Mongolia and different CIS states. Especially the new construction of high-pressure power plants with high capacity, which is hardly possible in Germany any more, is an interesting topic there.
We are proud that despite increasing project sizes small and micro hydropower plants will always be a part of our business. In Germany many small hydropower plants with a capacity up to 100 kW are likely to be built in the next few years. There is still a great unexploited potential.
The development of water-power technology is at a very high level today, however, every single project will always remain an individual case. So called "standard projects" are not existing. There will always come up new possibilities and technologies of making better use of water-power potentials and we want to participate in this development by our scientific work and our experience from more and more various projects
To always be state of the art, we also work in the area of research and science. At the moment we are active in a research cooperation with the topic of variable rotation speed technology for small hydro power technology. With this technology small heads can be utilized with simple machine equipment.  We supervised several master theses to various water-power topics and cooperate with universities (Bauhaus University of Weimar, TU Dresden and others).
Our work within the next years will extend and the projects abroad will be located considerably further away.  But we will also take care of every project in Germany with the same energy and accuracy.
We will certainly be able to realize more projects with a performance of more than 1000 kW and the proportion of middle and high pressure plants will increase. Our activities abroad are required due to our specialization, but every power station operator in Germany can profit from these experiences, too.
The hydro power corporation Ltd. will also stand in the future for technically and qualitatively high-level, on schedule and reliable work.